Lomas
A British Family America
The Great Migration
Turmoil at home led many families to risk the hazardous journey across the oceans. The Lomas Family certainly is no exception as records exist the Lomas Family is prevalent in many countries throughout the world today; especially in North America.
**Voyage of the Mayflower and the Speedwell
The Leiden Separatists bought the ship Speedwell in Holland, and boarded it at Delftshaven. They then sailed to Southampton, England to meet the Mayflower, which had been chartered by the merchant investors. In Southampton they joined with other Separtists and the additional colonists hired by the investors. The two ships began the voyage, but the Speedwell leaked so badly that the expedition had to return to England, first to Dartmouth and then to Plymouth.
Finally, in 1620 the Pilgrims sold the Speedwell and had to set out from Plymouth, England, on board the Mayflower alone.
With the crowding of 102 passengers plus crew, each family was allotted very little space for personal belongings. The 66-day voyage was frequently stormy. At one point, the main beam cracked and had to be repaired using a large iron screw. When the passengers sighted Cape Cod, they realized that they had failed to reach Virginia, where they had permission to settle.
**Needless to say, there were no Lomases or Lomaxes on board the Mayflower's landmark voyage in 1620.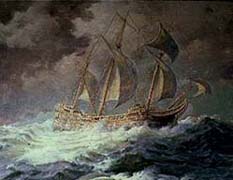 The Mayflower at Sea by Margeson
The earliest record found to date of a Lomax in America is for Thomas Lomax, born 14 June 1630 in Newcastle, England. He arrived in Maryland before 1657. Thomas was a backer of Josias Fendall, who seized control of the colonial Maryland government in 1658. Thomas was the Clerk of the Court while Fendall was in power from January 1659 to November 1660. Thomas was tried in Provincial Court in 1661 for acting "mutinously and seditiously" for helping Fendall, but was found not guilty.
His younger brother Clebourne arrived with his wife Blanch in 1668 and was also prominent among the colonial gentry and in the Maryland government. Thomas and Clebourne were children of Ralph Lomax of Newcastle-On-Tyne; the "Virginia Lomaxes" are also descendants. (Courtesy John B. Lomax)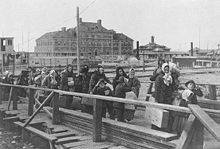 Immigrants landing at Ellice Island in 1902
Early Immigrants to America
-Edward Lumas, immigrated in 1635 and settled at Ipswich, MA;
**-Joseph Loomis immigrated in 1638 and settled at Windsor, CT;
-Thomas Lomax, on record in Maryland in 1657 and 1664;
-Blanch Lomax, who settled in Maryland in 1668;
-John Lomax immigrated prior to 1670 and settled in Rappahannock Co., VA
-Deacon John Lomas who died at Windsor, Connecticut Sept 1, 1688
-Ewen Lommas who settled in MD/VA by 1699;
-John Lomax settled in Middlesex Co. VA by 1703;
-William Lomax settled in Rockingham Co. NC by 1740;
-Lunsford Lomax, who settled in Augusta Co. Virginia in 1758;
-Jonathan Bird Short (1771 - 1847) married Elizabeth Lomax, daughter of Thomas Lomas and Lydia Short on June 21, 1794 in Guilford Co. North Carolina;-courtesy the Short Family Tree
-(Also note a William Lomas, who settled in Jamaica in 1774);
-Joseph Lomas who came with the British Army during the Revolutionary War and later settled at Andover MA;
-William Lomas who deserted the British Army for the American Army during the Revolutionary War later settling at East Nantmel, PA.
-Edward Lomas who landed in Charleston, S.C. in 1824,
-William Lomas who arrived in New York in 1828
-Lewis Lomas who arrived in Texas in 1835
-In 1850 there were two Lomases bound for the USA- according to the ship's manifest of the DeWitt Clinton:
a) William Lomas, age: 35, sex: M, Occup: Boots, Origin: Ireland, bound for: United States
b) Henry Lomas, age: 28, sex: M, Occup: Farmer, Origin: England, bound for: United States
-Samuel Lomas, aged 22, landed in New York in 1854
-John Lomas who landed in Washington County, PA in 1856
**The Joseph Loomis as listed above married Mary White in England. The descendants of these two people today, represent the third largest of all families in America, that is, an incredible 8 million people on only one branch of the tree!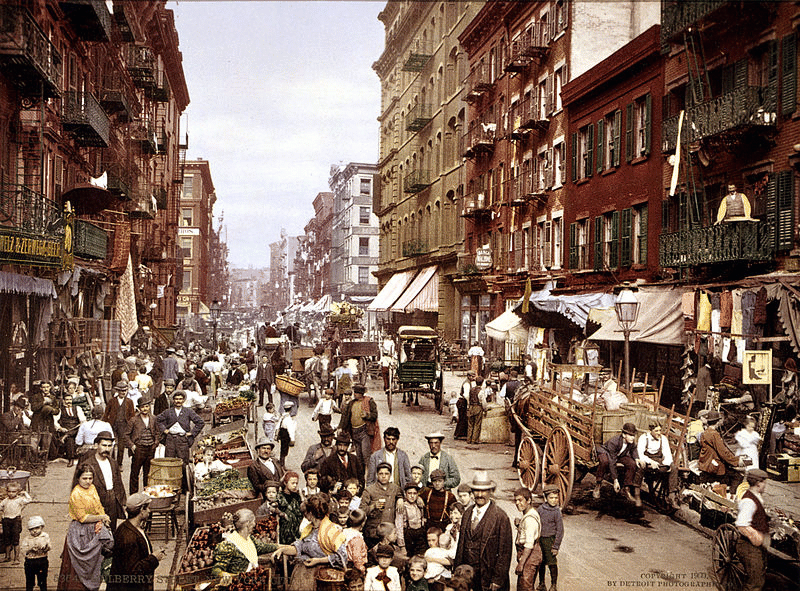 Mulberry Street, New York City c. 1900