The Lomas Family
A Study of an Old British Family
Coats Of Arms, Crests and Mottos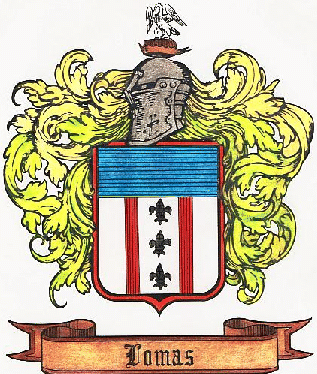 Richard Grimshaw Lomas(x) (1763-1837) was granted a coat-of-arms. According to the descriptions of Burke's Peerage & Baronetage, 107th edition, the above Coat-of-Arms is the correct coat for the Lomas(x) name. However, there is no available proof that the above coat-of-arms was the actual one that was granted to Richard.
The significance of the colors is:
Argent (silver), peace and sincerity;
Gules (red), magnanimity and military fortitude;
Sable (black), constancy;
Azure (blue), loyalty and truth.
"Arms" were so-called because they were originally displayed upon defensive armor.
"Coats-of-Arms" were so-called because they were embroidered upon the coat worn over the armor. A Coat-of-Arms is a simple design that was first adopted as a means of identification to distinguish friend from foe. Curiously, however, William the Conqueror did not use arms. The "crest" is merely the top portion of a Coat of Arms.
In medieval times very few people, including kings and nobles, could read or write. This knowledge was limited almost exclusively to clerks, clergy and heralds. Clergy and clerks kept church and business records, while heralds recorded and supervised coats-of-arms, making sure that no two appeared alike.
In 12th century Europe, knights began painting their shields to identify themselves while wearing full armour. These early coats-of-arms, while generally very simple, clearly showed the person's identity. The idea caught on and, as coats-of-arms grew in popularity, more symbols were needed and coats-of-arms became more complex. Gradually, monarchs took control of the official granting and use of coats-of-arms, which allowed them to honor people and groups. Heralds -- court officials who also acted as diplomats -- were responsible for keeping track of the people under their monarch's rule and started registering people's coats-of-arms.
Dr. Elisha Scott Loomis published his remarks (reprinted from the edition of 1875) pertaining to the genealogy of the descendants of Joseph Loomis historical data:
"Lawrent Lomax of Lancaster Co. was authorized to bear a coat of arms sometime prior to the year 1561. In the reign of Philip and Mary (A. D. 1554), a commission of visitation was appointed to regulate the use and assumption of arms, and several similar commissions were subsequently issued under the reign of Elizabeth and her successors.
At the Visitation of 1561, Lawrent Lomax of Eye, in Suffolk County, was recorded as having a coat of arms. This record is found in a manuscript volume contained in the British Museum, entitled "Pedigrees and Arms of Suffolk Families," Harleian Collection of Manuscripts, No. 1449. On page 110b of this manuscript is found a record of Laurent Lomax (born in Lancaster), with the names of his descendants (including children, grandchildren and great grandchildren), and his coat of arms is represented by a figure in the margin.
The following is a copy of the record:
Lawrent Lomax, born in Lancaster.
Coat of Lawrent Lomax Mary dau. of Sir Edward
Arms of Eye in Suffolk Sulyard of Hawley in Suffolk.
in the margin Lawrent Lomax=Ann dau. and heir of Ounger of Eye of Suffolk of Debenham in Suffolk.
Lawrent Lomax; John Lomax.
Below, the representation of the Lomax coat-of-arms is taken from Berry's Pedigrees of Hertfordshire Families, page 103, where is given the genealogy of Joshua Lomax of Childwickbury, Hertfordshire. This coat-of-arms is thus described: "Ermine a Greyhound, courant between three escallops, sable. Crest a demi greyhound Argent, collard Gules."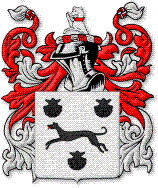 The last visitation of the heralds was made in 1683. Soon after this date the ordinances which had been made deciding who were entitled to bear arms were generally disregarded, and arms were assumed by any person who coveted this distinction.
Within a comparatively recent period, the Lomas family had assumed an independent coat of arms. In a book entitled "A complete body of Heraldry" by Joseph Edmondson, London, 1780, the name Lomax appears, but not the name Lomas.
In the "British Herald", by Thomas Robson, Sunderland, 1830, and in numerous more recent works on heraldry, the Lomas coat of arms is described thus: "Argent between two palets, gules three fleurs de lis in pale sable, a chief azure. Crest, on a chapeau a pelican vulning herself proper."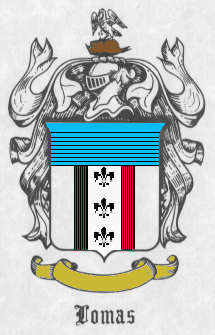 Heraldic artists of old developed their own unique language to describe an individual coat of arms. In their language, the Arms (shield) is described as follows:
"Ar. betw. two palets gu. Three fleurs-de-Lis in pale sa. A chief Az"
When translated the blazon also describes the original colors of the Lomas Arms as:
"Silver; Between two red narrow vertical bands, three black fleurs-de-Lis, placed one over the other; a blue upper third."
Above the shield and helmet is the crest that is described as:
"On a chapeau, a Pelican vulning herself ppr. (proper); all naturally coloured."
To "vuln" is to scratch or to mark oneself to encourage bleeding. Perhaps the pelican is providing life-giving blood to it's offspring beneath itself.
"ar" means argent, or silver, or white;
"betw" means between;
"gu" means gules or red;
"sa" means sable, or black;
"az" means azure or blue;
"The Chief" is the shape of the crest
Elisha Scott Loomis states:
The coat-of-arms by the rules of heraldry may be interpreted thus-
The pallet, signifying military strength and fortification, was given to those who impaled or otherwise defended cities, or supported the government of their sovereign, "by standing up uprightly for prince and country." The fleur-de-lis was often granted to those who had taken part in the French wars. The Pelican is the device of the inner temple, London. And vulning itself signifies, that it will give its own blood for its young, hence a symbol of devoted and self-sacrificing charity. On p. 98, of Wescott's Hst. of the Eng. Bible (the Bishop's Bible which appeared in 1568), Wescott says: "At the end is an elegant couplet in the device of the pelican feeding her young."
The couplet is:
"Matris ut haec proprio stirps est satiata cruore,
Pacis item proprio, Christe, cruore tuos."

Translated, it reads:
"As this young is fed by the actual blood of the mother
So, O Christ, you feed yours with your own blood."
"He who inherits arms is a gentleman, well bred and of good name."- Henry V.
In the infancy of heraldry every knight assumed whatever arms he chose, but the Crusades, by bringing together soldiers of different nations, tended to produce a certain assimilation in their heraldry, all of which are now under the direction of the Heralds' College of London.
It is important to remember, though, Coats of Arms were granted to individuals NOT families. So the myth of a "Family" Coats of Arms is completely inaccurate. Under most heraldic rules, only first sons of first sons of the recipient of a Coat of Arms are permitted to bear their ancestor's arms. Younger sons may use a version of their father's arms, but the rules of heraldry state that they must be changed ("differenced") somewhat. If the bearer of a Coat of Arms (called an "Arminger") dies without male heirs, his daughter may combine her father's arms with her husband's arms. This process is called "impaling". Although these principles may seem very archaic, stiff and formal today, they do give us an idea of the rich and protective tradition which has surrounded heraldry through the ages. However, only one person can rightfully possess a given Coat of Arms at one time.
Within research, one should really do his/her due diligence. Only the romantic-at-heart are gullible enough to purchase an unvalidated coat-of-arms from the Internet or any other marketing scam.
Even though the official documentation for the Lomas Family Coats-Of-Arms is listed in Burke's Peerage & Baronetage, it may not necessarily be used, accepted or recognized by all branches of the LOMAS/LOMAX family. In particular, to this day the Lomas Family from Little Heath Foleshill does not recognize ANY coats-of-arms.
On the other hand, in America anyone is free to adopt a symbol, a family crest, a signet or coat-of-arms as he/she may choose. Remember though, our pioneer forefathers have left all such trappings behind in the mother country, and for now ten generations of our descendants have been more than "gentlemen". Most importantly, they have been useful members of society and defenders of democracy in the New World. ....For more information about heraldry, logon to Ian G. Brennan at The Heraldic Sculptor.
Family Mottos
Family mottos are believed to have originated as battle cries in medieval times. The motto "Ne cede malis" is found in Verg. Ae., 6, 95, and the translation is, "Do not give way to misfortunes." This particular motto is believed to be the "Lomas, Lomax, Loomis Family Motto".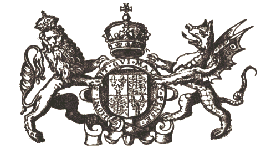 The Royal Arms C.1572 WITH Dragon Supporter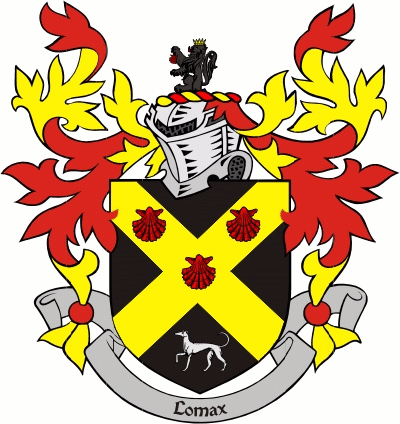 (Another depiction of the Lomax coat of arms)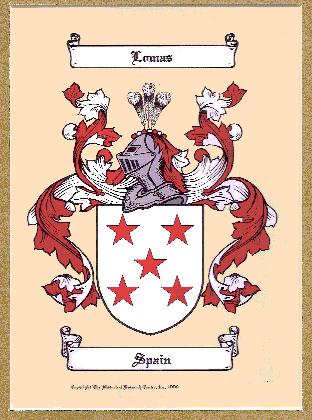 The Lomas coat of arms sourced from Spanish records
according to Rietstap heraldry