Lomas
A British Family
Stories &amp Trivia
from Foleshill & Beyond
Joseph Lomas (1834 - 1901)
-courtesy of Martha Lomas-Hemphill

Army Service Record
Description: Born at Coventry in the county of Warwickshire in the parish of Foleshill,
weaver by trade, 5' 5 3/8" tall, auburn hair, light brown or grey eyes, belonged to the Roman Catholic church
1860 - Nov. 19, he enlisted in the army at Coventry, age of 22. He is service #805.
1861 - Stationed at Preston
1862 - March 16, joined the 29th Foot Regiment from Depot Co.
1863 - Ayr, Scotland
1864 - Dublin, Ireland
- Oct. 9 married Charlotte McManus at Enniskillen, Ireland
1865 - Enniskillen
1865 - Hamilton, Ontario
- June 20, to Malta
1866 - Malta
1867 - Malta
- July 25, to Canada
1868 - Hamilton, Ontario
- June 21, Pte. Lomas & Charlotte and child took the place of Flynn who was "Vice Brady to Depot" securing a place in married establishment
1869 - Toronto
- Nov. 10, Halifax
- Dec. 30, to Jamaica
1870 - Most likely stationed at the Newcastle Station in the Blue Mountains - the first mountain station in the area.
- Sept. 7, Joseph Alfred Lomas was born at Newcastle
- Sept. 10, Charlotte walked 3 miles to town to have Joseph baptized
1871 - Fort George, Trinidad
- Nov. 20, grade 3 good conduct pay
1873 - April 7, England
- detailed a canteen waiter 1.1 1873-22.6.1873
- rejoined regiment at Fermoy, Ireland
- Served Fermoy and then Carlisle Fort, Jamaica
1874 - Carlisle Fort
1875 - Served Carlisle Fort on 1st + 2nd muster and in the 3rd muster was "on fatique" and "guard" on 2nd muster in Dublin
- Jan. 4 - June 30, St. Peters, Jersey
- Hythe paid 92d per muster
1876 - Nov. 1, - Nov. 20, grade 4 good conduct pay
1877 - St. Peters guard duty
1878 - pay increased to 182d then to 183d Sept. 30
- May 24, Richard Lomas was born at Aldershot Military Town, Hampshire, near London, England
Joseph did not receive any medals, but he did distinguish himself. He was awarded 4 good conduct badges. Within his total service of 18 years and 35 days, Joseph had served 7½ years abroad which included India.
- Dec. 24, DISCHARGED at Dover, England. At that time his intended place of residence is Gloucester
1879 - The 29th Foot Regiment becomes the 1st. Worcester Regiment - no mention of Joseph
Joseph and his family probably re-entered Canada for the final time sometime after 1880.... On file from the "Dominion of Canada", there is a Certificate of Identity of a Pensioner signed March 31, 1885 wherein Joseph is fully described and certified as pensioner #2134.
1894 - Hamilton, Ontario - residing at 124 Hess St. No.
In the Hamilton City Directory of 1897, Joseph Alfred was listed as "Joseph Junior" and as a mechanic by trade.
In the Directory of 1898, all three of them (Joseph, Joseph Alfred and Richard) are listed as living at 124 Hess St. No.
1901 - Joseph died at his residence, the final cause of death on the Death Notice was listed as pneumonia "suffering after 4 days".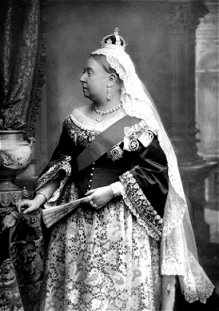 The National Army Museum - 29th Regiment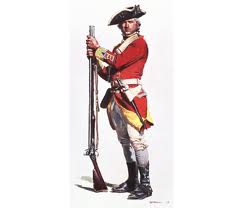 In April 1842, the 29th embarked for India, landing on the 29th of July the same year In December the regiment was stationed at Ghazipur, a town in the United Provinces. During the year 1843, the 29th lost 20 officers and 100 men of disease.
1845, the first Sikh campaign:
In 1845, the Sikh Army numbering 60.000 men crossed the river Sultan and invaded British Territory. Sir Hugh Gough hurried to the frontier, and within a short period the invaders were totally defeated.
In December of 1845, whilst stationed at Kasauli, the 29th received orders to join Cough's Army against the Sikhs. To reach Femozeshah from Kasauli, the regiment had to march 170 miles in nine days, the roads being thick with dust, nights cold and wells scarce. So rapidly did they march that bread could not be made and flour was served out to make chapatties. The 29th arrived too late to take part in the battle of Moodkee, much to the disgust of the men, one of whom remarked, "The regiment was too late for Waterloo, and now we are too late again. The regiment a few days later took part in the Battle of Ferozeshah, receiving its16th honour.
During the Battle of Sobraon 1846, Brigadier General Taylor, late Commanding Officer of the 29th was killed, and the following order was published by the Governor General of India.
The Army has also sustained a heavy loss by the death of Brigadier Taylor, commanding the 3rd Brigade of the 2nd Division, a most able officer, and very worthy to have been at the head of so distinguished a Corps as Her Majesty's 29th Regiment, by which he was beloved and respected. "In the same order the gallant conduct of the 29th was recognised by the following:— Her Majesty's 29th Regiment and 1st European Regiment have entitled themselves by their gallant conduct to the thanks of the Government."
Sobraon was the 17th honour to be won by the Regiment.
1848, the second Sikh campaign:
Lord Dalhousie, Governor General, had not been six months in India before the second Sikh war broke out. Two British officers were treacherously murdered at Ilultan. Unfortunately, Henry Lawrence, our Resident at Lahore, was at home on sick leave.
The British Army was not ready to act in the hot weather, and, despite the single banded exertions of Lieutenant (afterwards Sir Herbert) Edwards, this outbreak of fanaticism led to a general rising in the Punjab
In the following year the 29th took a prominent part in the Battle of Chillianwallah, losing 29 killed and 203 wounded. During the battle, Major Day met a man of the Light Company arrayed in a fine fur coat with gold buttons. He stopped the man and said, "Where did you get that handsome garment?" "Please Sir," replied the man, "Me and a Sikh nobleman had a few words and I came away with this coat."
On the fatal field of Chillianwallah declared to be indecisive, the British lost 2,400 officers and men, four guns and the Colours of three Regiments. This was the 29th's eighteenth honour.
In the same year the 29th took part in the Battle of Goojerat, which owing to the previous heavy losses among the Sikhs was only a minor engagement. After this battle, the whole of the Punjab was placed under British rule. For the part taken in the First and Second Campaigns, the 29th was granted the honour "Punjab," which with the one gained at Goojerat made the 20th.
After the conclusion of the Sikh Campaign, the 29th was stationed at Fyzabad.
In 1852, Queen Victoria sanctioned the wearing of the three honours "Punjab," "Chillianwallah," and "Goojerat," being worn on the Colour.
In 1854, the regiment proceeded to Burma, and was stationed at Thayetmyo on the River Irrawadi.
In 1858, Captain Middleton of the 29th whilst serving with an irregular unit was awarded the Victoria Cross for conspicuous gallantry in saving a brother officer.
In the same year the regiment returned to England being stationed at Aldershot, having been on Foreign Service fifteen years.
During this period the number of deaths amounted to 32 officers, 79 sergeants, 11 drummers, 57 corporals and 1,255 privates. It will be seen from the foregoing that India was not the healthy place that it is today.
Between 1859 and 1875 the regiment was stationed in Scotland, Malta and Canada.
In 1879, the regiment was again ordered to India. Two years later Regimental Districts were formed, and the 29th (Worcestershire) Regiment and 36th (Herefordshire) Regiment were amalgamated into the 1st and 2nd Battalions of the Worcestershire Regiment.
In the same year an order was issued abolishing the custom of carrying the King's and Regimental Colours into action. This was due to the new fighting formation and range of weapons.

Courtesy of Robert Lomas (1956 - 1990)
I am Robert Michael Lomas, born 1956. My father is Ernest Job Lomas, born 1910. His father was Ernest Job Lomas, born almost certainly in 1899. His father was Ernest Job or just Job, born (guess) 1860's. I am not Ernest Job because my mother thought the name ridiculous.
Farther back than that I cannot be very specific, because I am relying on my father's memory.
The Lomases arrived in Coventry from Ireland sometime in the 18th century. Since Lomas is the commonest name in the Barcelona phonebook, it is a fair guess that we are all descended from a Spaniard shipwrecked at the time of the Armada.
Infant Mortality.
Until about 1910, when St. Paul's Church on the main Foleshill Road was rebuilt, it had a fairly large graveyard. The Lomases lived in and around (adjoining) Broad St. The only source of water was a well behind the church. Naturally when it rained the water drained into the well from the graves. After the church was rebuilt, the high rate of children's deaths declined quickly. A little later, proper sanitation was provided.
Work.
They were largely bricklayers and builders in a very small way but from the beginning some were weavers presumably working for Cash's Silk Weaving Co. of Cash's Lane, also Foleshill. Women would have worked in the factory but the men would more likely to have worked in "top shops"- (a top shop is a room at the very top of a house with a very large window to admit as much sunlight as possible). The top shop concept enabled a weaver to work from dawn to dusk. He needed to. Paid by piece work and also paying rent on a house owned by the company, his loom, except in rare cases, also leased from the company, not owned (which of course they preferred) the firm's costs were minimal and the weaver was poor. The fact that to make ends meet often ruined the eyesight was none of their business.
Names.
Ernest Job goes back I don't know how long. Samuels are quite common (I had one as a great uncle). Oddly, after the Crimean War, 1835?? Almas of both sexes crop up (It was a battle which nobody won)
Canadian Stories of the Foleshill lomasline
1) I have a document dated 20 of August, 1873. It is entitled "Deed Of Cemetery Lot" from the Rector and Church-Warden of Christ Church in Hamilton to John Wakeham for the purchase of a burial plot for the incredible sum of $9.60!
2) According to my first cousin, Pauline Davis, our Great Grandfather Joseph Lomas (1834-1901) had lost a property in England due to foreclosure. For that particular reason, at an unknown year, Joseph was placed into Debtor's Prison. Later in his life, Joseph had joined the British Army and was stationed at Port of Spain, Trinidad at old Fort George. Army records list his birth date as 1838. Later, he must have been transferred to Newcastle, Jamaica, where his son, Joseph Alfred was born. Little is known of Joseph's life other than the fact that sometime after 1880, Joseph, his wife Charlotte and the two sons, Joseph Alfred and Richard entered Canada at the Port of Halifax - from there to Toronto, then on to Hamilton and then to New York state only to wind up in Oil City, Pennsylvania. (Apparently other Lomas Family members had settled in either upper New York state, Pennsylvania or Ohio). The reason he must have entered Canada after 1880 was because Richard was born in Aldershot, England in 1878.
Upon entry to North America, the family resided in Oil City, Pennsylvania for a few years but eventually had to relocate to a Commonwealth country (Canada) in order to be eligible to receive the coveted British Army pension. The exact date is not known but when Joseph finally settled in Hamilton, he and Charlotte moved in with Joseph Alfred and Sarah since Joseph Alfred had a good job with STELCO since about 1885.
On the death records for Joseph Lomas it is listed he resided at 124 Hess North, was listed as a laborer, was born in England and was a Roman Catholic. The cause of death was listed as "pneumonia - suffering 4 days".
3) By contrast, there are a lot of documentation and photographs that portray the lives of Joseph Alfred Lomas (1870-1944) and his wife, Sarah. On January 24, 1919, Joseph Alfred Lomas' name appears on a "List or Manifest of Alien Passengers Applying for Admission" at the Port of Niagara Falls, NY. The manifest indicates he was 48 years old, English, a machinist by trade, and living with his wife Sarah Alice at 157 Emerald St. in Hamilton. His final destination was listed as Oil City. (Pauline Davis stated, after they had settled in Hamilton, Joseph Alfred had made several trips back to Oil City to meet family or friends.)
4) The Foleshill Lomasline that migrated to Saskatchewan in 1947 (John Joseph Lomas, his wife Valerie Helen, their son, Joseph Vincent Lomas, and their daughter, Darlene Alice Lomas, later born in 1949 in Regina) over the years have become strong Saskatchewan Roughrider Club football fans of the Canadian Foolball League (CFL).
GO RIDERS!
Mouse over the official team crest to link to the "Rider Nation" website...

5) Believe it or not! In the summer of 1988 at Regina Saskatchewan, Joe and Paul Lomas- father and son respectively, scored identical, consecutive holes-in-one at the same hole of the same golf course, on the same day. It happened at number 2 hole of the Regent Park Par 3 Golf Course. On this particularly beautiful and sunny afternoon, Paul had won the first hole so he earned the honors at the second. Paul landed a nice little 60 foot chip-and-run hole-in-one! Not to be outdone by his son and wasting no time, Joe calmly addressed the ball and boldly repeated the same type of shot with exactly the same results- immediately after Paul's terrific first shot! The two were so excited, they were literally jumping up and down like children at a playground... However, to their disappointment, this amazing coincidence could never be recorded back at the clubhouse because there were no witnesses on the course at that time. The odds are astronomical for this event to occur in exactly the same manner.
However, as life goes on, Paul never really got too serious about the game of golf. Instead, he decided to devote his attention elsewhere...to much more serious matters. Then along came a young lady by the name of Kate Belanger and he became very serious. They were married on May 1st, 2004 at Barrie, Ontario. The young couple is residing in Calgary, Alberta.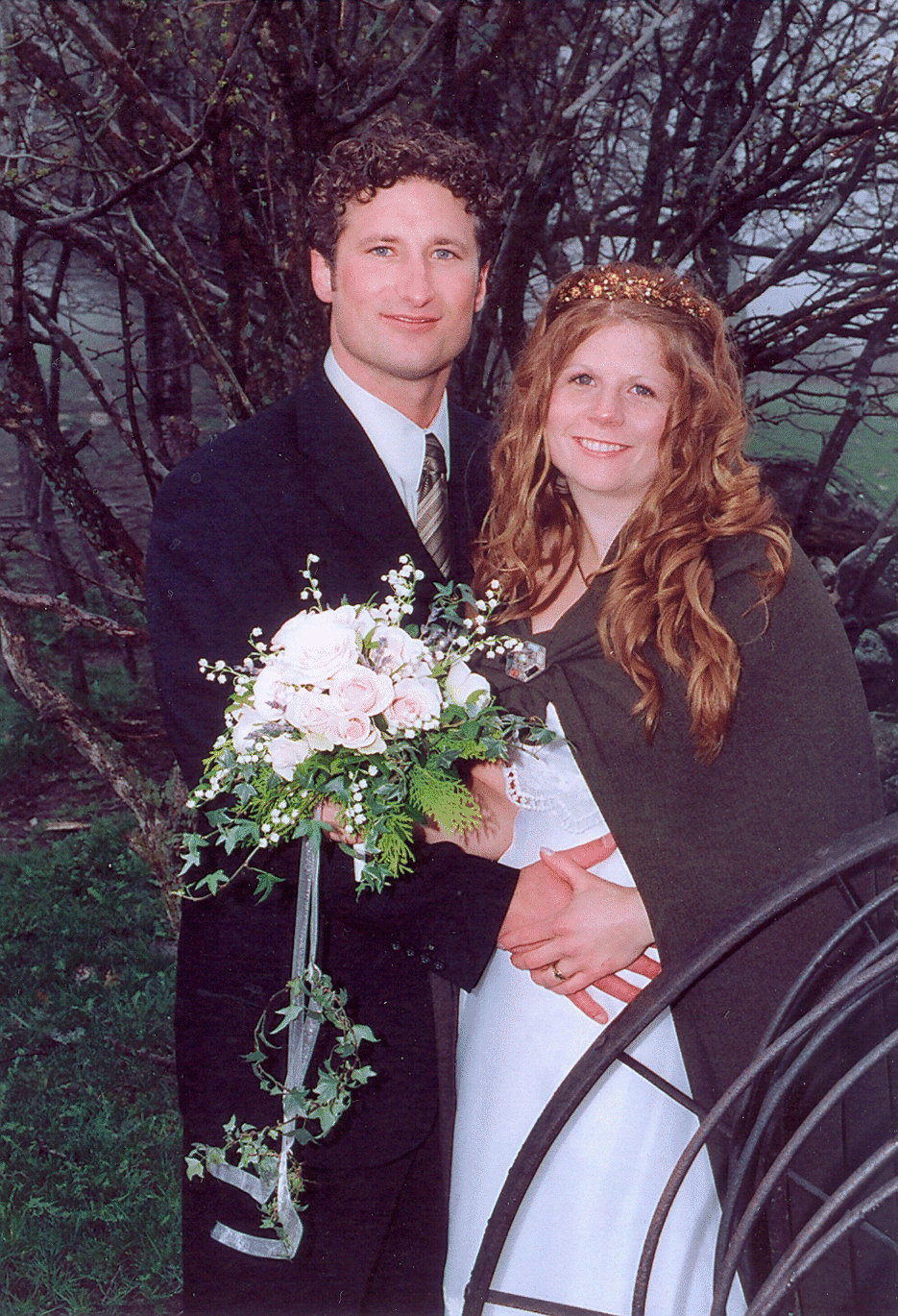 Correspondence
Email of August 28, 2008 from Harry Lomas
Dear sir/madam
I am part of the Lomas family and I have also found that the surname Lomas is found in places like Ireland, Scotland and Wales as well as England.
My part of this family is in Northampton.
E-mail:harryvista@hotmail.co.uk
Please reply, Harry Lomas.
Email of June 02, 2008 from Rob (Margaret) Bruce
Hi,
My Great Grandmother was Elizabeth Ann Lomas who married William Stephen Weigh. Elizabeth Ann's father was Thomas Henry Lomas (Lomax) who was born in abt.1847, in Timperley, Cheshire, England. I think his father was Richard Lomas (Lomax)
Elizabeth Ann was born in Brooklands, Cheshire, England on 6/1/1869, and died 30/7/1923 in Brisbane, Queensland, Australia. Elizabeth Ann Weigh (nee Lomas) and children came out to Australia from Isle of Man in 1912. William Stephen Weigh had come out in 1911.
I am trying to find out more about her family and wondered if you would be able to help me?
Kindest regards,
Margaret
Email of April 1, 2008 from Shaun Lomas
Hi there!
Congratulations on your website.
I live in Melbourne, Australia. My family is originally from Rockhampton, Queensland (I mean recently "originally" of course) a provincial city on the Tropic of Capricorn nth of Brisbane and near the holiday resorts of Yeppoon and Great Keppel Island.
My father and his father, and grandfather were born (as I was) in Central/Northern Queensland. Prior to that, I believe that our branch of the family was said to have come from Derbyshire/Warwickshire (according to oral history) and may have originated (the English line that is in Lancashire near Bury although there is scant information on that).
You may be interested to know that the name in Australia is not extremely common, though more common in Queensland than in the Southern states.
It seems the family were not transported to Moreton Bay (QLD), or to Van Dieman's Land (TAS) as convicts, but came over mid 1800's as immigrants.
My immediate history which may assist you with a thread you may be researching : (it may or may not be of use to you).......
Me: Shaun Anthony Lomas b. 24.01.57, Rockhampton QLD
Father: Cecil John Edwards Lomas b. 23.12. 1918, (Rockhampton QLD) d. 6.8.2004, Drysdale, Victoria. Married Audrey Patresa Paulin (b. 13.8.1924 in Melbourne)
Grandfather: Leslie Charles Lomas b. Bundaberg QLD around 1885 (Married Ada Beatrice May Edwards)
GG/father: John Henry Lomas b. Gladstone QLD around 1860 (Married Annie Maria Moore)
Names (maternal relations at certain generations) associated with my branch of the family are:
Paulin (my mother) (origin England and France.... a branch in Italy Paulini)
Hewitt (her mother) -a sept of the Clan Macdonald of the Isles, Scotland
Hennessy (her G/mother) -and O'Hennessy (Irish) -Co. Cork and Co. Offaly.... and a French side of the Irish O'Hennessy Shelley (her GG/mother)
Edwards, ( Frances Hall - her mother)
Moore, Reid-Coventry The study of my forebears has always interested me and I wish you all the best in your endeavours.
Cheers!
Shaun Lomas Paralegal
Tax Disputes
Maddocks,
Direct 61 3 9288 0568 | Facsimile 61 3 9288 0799|
Email Shaun.Lomas
@maddocks.com.au
140 William Street| Melbourne Vic 3000
www.maddocks.com.au

Email of March 18th, 2008 from Sue Jasinski-Lomas - One of the main contributors to this site!
Hi there!
Hope you don't mind me contacting you. We never corresponded as I linked with Martha Lomas-Hemphill but she did tell me there was another cousin with an avid interest in the Lomas Family. Imagine my surprise when I was idly surfing a few weeks ago and came up with your website - lomasline. I idly surf often but for some reason had never found it before. It was really good of you to acknowledge my humble efforts. Many people wouldn't - so thank you!
It was also fascinating to see the letter from Rob (my brother in law) who sadly died in 1990. Was it really that long ago I corresponded with Martha? Anyway, my daughter has begun to show an interest in her family roots but doesn't appear on the family tree. Before her time I think!! So if you update any time she is Zofiah Krystyna born in 1987. Rob also left a daughter too. Alice born in 1990. Though we have never been in touch. Messy divorce etc
Would love to hear from you if you have the time....
Sue Jasinski-Lomas
Email of March 6th, 2008 from Hugh Lomas
Found this site and was very interested.
I was born in Birmingham (1954) England of Father who was born in Cannock Staffordshire. His father also Cannock Staffs. From GGFather of Dawley in Shropshire. We go back through the North Midlands. If you are still involved in DNA Testing I would be Happy to Contribute.
Hugh Geoffrey Lomas
Email of January 02, 2007 from Tony Upton
Dear Mr Lomas,
Many thanks for your kind e-mail, which I have read with interest. I retired as Vicar of St Laurence, Foleshill, in November 1991 and during my ministry there I came across Lomas family members, although not necessarily linked with your branch.
Gilbert Noel Lomas and his wife Chris lived in the parish and I took communion to 'Bert' regularly as he was housebound, one of his legs having been amputated. He also suffered from diabetes and blindness. He showed great fortitude notwithstanding that pain was his constant companion during the last eight years of his life. His wife, Chris, nursed him with exemplary care and devotion. 'Bert' died, aged 68, in September 1987. I took his funeral in church and, somewhere in my records, I must have a copy of the sermon that I preached on that occasion. 'Bert' and Chris had a son, John, who was married just a few weeks before 'Bert' died. The date was 27 June 1987 and John's bride was Susan Carmel Hawtin. The wedding took place at St Laurence's, and I took that service, too. It was a really proud occasion for 'Bert', who had to be wheeled into the church, of course. I wrote a short obituary for 'Bert' in the October 1987 edition of 'The Courier', the Foleshill parish magazine.
I also came across Celia Wells, nee Lomas, who had moved to another part of Coventry long before I became Vicar of Foleshill St Laurence in 1983. As a young woman in 1940, Celia was an Air Raid Warden and was on duty on the night St Laurence's church was bombed (29 October 1940). It so happens that I wrote a book about the air raid and I interviewed Celia and included her memories. Her photograph also appears in the book. In fact, by a strange coincidence, somebody is offering a copy of the book, entitled 'Burnt Roof' (privately published in 1992) for sale on e-bay in the UK at the very present moment, expiring in a couple of days' time. I've no idea who is selling it, but somehow they have got hold of a copy I signed for a former member of the Luftwaffe KGr100 bomber unit when I attended their re-union in East Germany in 1992. I found it by typing in 'Coventry Church'. You may be very interested to know that Celia's photograph is actually reproduced in the 'blurb' on that site, so it is well worth looking up!
One of a series of A4 pamphlets I published some years ago was entitled 'Memorials and Inscriptions at St Laurence's, Foleshill'. This gave the inscriptions on all the gravestones in St Laurence's churchyard in 1991 when I left the parish, and it also catalogued all the gravestones known to have been removed by a former vicar in the 1970s. There is, alas, no record of the inscriptions on the latter, only the names. They include George, 1913; Elizabeth, 1912; Joseph their son, aged 11 months, 1872. In another pamphlet, 'Organs and Choirs at St Laurence's, Foleshill', I mention a Mrs Lomas who was elected as a member of the St Laurence's Choral Society in 1923.
I do not have the time to do family history research because in retirement I am currently working on four separate histories, one of which is the history of Foleshill and St Laurence's church. If I come across anything relating to the Lomas family, however, I will let you know. I have a fairly voluminous record of Foleshill documents going back to the 13th century, although none more recent than the 18th century! Meanwhile, I hope this information will be of interest. With thanks for alerting me to your website and my greetings for a Very Happy New Year to you and yours.
Yours sincerely,
Anthony A. Upton
Email of January 01, 2007 from Lance Loomis (Loomis Families of America)
Hi Joe,
If you go to our website and click on the DNA project link, it explains in depth what can be gleaned from having family members participate in the DNA Project.
But, what I meant was that when the test came back for the Lomas individual in England, as that is where his line has always lived, the DNA markers were either identical or were only one off from the markers of other Loomis' who have taken the test. Between the several Loomis individuals, there were two or three markers that were one off from each other, so it showed that we were definitely related within the family. With the Lomas test, that DNA test was also, very close but with three or four markers that were one off.
So, that Lomas was more distantly related, but still definitely at some point in time descended from the same ancestor as our Loomis patriarch, Joseph Loomis.
Lance
Email of October 7th, 2004 from Joan Evans
Hi Joe,
Regarding our connection, your line is thro the 4th generation William Lomas b1795, our line is thro his brother Edward Lomas b.1802 >David>David>Charles Leonard- my Grandfather. Ashby is an old market town, in the middle of the National Forest, west-Leicestershire, youve guessed right it is quite quaint, the shops in town maintain a period look, the town was mentioned in the doomsday book, but was given the de la zouch by a LORD of Ashby Roger de la zouch.
Must go now,
Regards
Jo
Email of October 5th, 2004 to Joan Evans
Joan, thank you again for your reply below! But, with all due respect I must ask you and Roy- "How did you connect the line of Thomas Lomas b. 1640? to Charles Lomas b. 1715?" "Is there definitive proof that John Loomas (b. 1686 at Foleshill) is indeed the father of the Charles Lomas who married Mary Broadbent in 1738 at Coventry?"
My cousins (Martha Lomas-Hemphill from Ontario), Fr. Thomas McGovern from Ohio and I are very happy that you and Roy have established the connection. We are just wondering if you have any definitive proof to firmly base it upon.
Also, if the connection is firmly established, how may we be connected to you? Of course you and your husband have many other priorities in your lives; but if you have a moment sometime, could you possibly answer our questions?
It goes without saying that any assistance you could provide to us would truly be most appreciated.
You may also notice that I update the lomasline website about once or twice a week. I've just made some interesting "Links" to Terry Bigley's website- "Ancestral Locations" and Historic "Coventry".
Did you know that Michael Moore, the famed Producer-Director of Fahrenheit 911, bought the title of The Lord of the Manor of Foleshill? Why would he do that? Are we related to him? The questions go on and on, don't they?? Genealogy, isn't it great......
Regards,
Joe Lomas
Regina, SK.
PS. By the way, Ashby de-la Zouch sounds like a quaint little place...how many people live there? If the Town is by the "Zouch"... is there a river named "Zouch" in Leicestershire?
Email from Joan Evans on September 28th, 2004
Hello Joe, I am Roy's wife Jo (Joan) and mine is the Lomas line. We are so pleased that we have helped you with your family tree, it gets to be an obsession doesn't it? We've had a quick look at your fantastic web site and will look later when there's more time. What a lot of work and hours you've put in.
We lived in Coventry until just over three years ago when my husbands job at Rolls Royce was transferred to Derby. He didn't like it there too much and at present works for Coors. We now live in the Town of Ashby-de-la-Zouch in Leicestershire.
Please keep in touch, it was so nice to hear from you.
Regards - Jo & Roy.
Email to Roy Evans on September 27th, 2004
Roy, I take it you must be the contributor of the genealogical information to the Ancestry people, are you?
If you are, may I thank you for assisting myself and family..... very, very much. For years we have been butting our heads against a brick wall in our attempts to advance our family into history.
Please have a look at my site www.lomasline.com. I would appreciate your comments and criticisms.
Thank you very much,
Joe Lomas
Email from Terry Bigley- September 29th, 2004
Joe,
Many thanks for your e-mail. I have had a look at your fantastic website and I will add it to the list of links from my own site. You may like to add my site to your own list of links. I remembered your initial enquiry as soon as I saw it on your site.
Having read through the details on your site I would like to expand on some of the information that I provided previously and make a few comments if I may.
Firstly, it is a fantastic picture of the couple that I assume are your son and daughter-in-law and the item about the joint hole in one is amazing.
Whoever has done the work on Coventry and taken the photos has done a great job and really put a lot of effort into it. There are one or two small discrepancies that appear in the article "The Lomas Family from Little Heath, Foleshill".
The name of one of the new housing estates was Nunts Park, not Nunks Park. The paragraph about Coventry and Warwickshire is slightly misleading. Coventry was geographically in Warwickshire prior to 1974 but it was an independent authority with its own services such as Police, Fire and Education.
In 1974 it joined with other local authorities to form the West Midlands Metropolitan Authority with services such as Police, Fire and Passenger Transport becoming the responsibilty of the new combined authority. When the West Midlands Metropolitan Authority was disbanded a few years ago the services mentioned above remained the responsibilty of combined boards.
From 1974 Coventry has been considered to be part of the West Midlands Metropolitan County which in reality no longer exists. Coventry maintains its status as a Unitary Authority with responsibility for all other services. It no longer is considered to be part of Warwickshire, and no part of Coventry comes under Warwickshire County Council. Those people who live in Warwickshire have some services provided by their local district council i.e. Nuneaton & Bedworth, Rugby, Warwick, Stratford and North Warwickshire. Services such as Education, Fire and Social Services are provided by the County Council. The Lunt Fort is at Baginton not Baggington.
Some other points of interest. It is mentioned that the family lived in the area of Broad Street near the church. I believe that the church was further away at the time they would have lived there - the new church is not on the original site. I travel down Broad Street every day on my way to work. On old maps the area is shown as Vauxhall. It is just round the corner from where I work. I work in what used to be part of the Courtaulds factory but is now converted to offices. There is a plaque in the foyer commemorating the first spinning of Viscose Yarn on the site in 1905 by the company of Samuel Courtauld. Cash's factory is not far away and it is still possible to see the "Top Shops" where weavers would have worked.
You may have heard of Michael Moore, the television and film producer who has upset George Bush recently with his attacks on him. He had a television programme on British television a few years ago and he bought the title of Lord of the Manor of Foleshill. I don't know if he still holds it. It is purely a title - there is no longer any land with it.
I was interested to see the somewhat convincing evidence about the Spanish origins but I would offer a word of caution. Almost everyone in Ireland with a dark complexion seems to claim ancestry from a survivor of the Spanish Armada. It has even occurred in my own family with my Shine ancestors who were known, in the part of Ireland where my father was born, as the "Black Shines". It is even mentioned in a song by the folk singer Jez Lowe who originates from the north-east of England. That is not to say that your ancestry is on the wrong trail. There was trade between Spain and Ireland for many centuries so Spanish sailors would have been regular visitors. The old quay in Galway has a gate called the Spaniards Arch.
I hope that the above is of some help to you.
Best wishes,
Terry
An email from Terry Bigley- July 1st, 2003
Dear Joe,
Many thanks for your note. I am pleased that you enjoyed the site.
I had a look at the family trees on the Ancestry.com website and saw that there was an interest from Canada and that Charles Lomax and Mary Broadbent were listed. Perhaps you have some connection with whoever posted the details. It appears that sources have been somewhat exhausted as the research was carried out by someone from the Public Records Office.
Charles is shown as being born in England although there is no indication of the evidence for this. The few thoughts that come to my mind are the IGI which you presumably have checked for England. Have you checked the IGI for Ireland? Unfortunately the IGI coverage for Ireland is not particularly good. You would really need to have some indication of where an ancestor in Ireland may have lived as there are few registers still in existence which date from before 1738. I have had real difficulty going back to before the 19th century with my own Irish ancestors even though I knew the area in which to look. Lomax/Lomas is probably a fairly rare name in Ireland so a trawl through the various Irish counties in the IGI may pinpoint an area where people of that name may have been concentrated and you may find later descendants there that would allow you to follow a line back.
Of course there may or may not be anything to the Irish connection. Family history is full of dead ends and myths.
I work about one mile from the area of Little Heath. In the 18th century it would have been a very small village, within the larger area of Foleshill, although within walking distance of Coventry. The city of Coventry has expanded over the years and now includes all of the Foleshill area within its boundaries. St. Michael's Church became the Cathedral in Coventry, the one that was bombed in World War 2. Unfortunately church records of that date do not include much detail apart from the names of the couple being married. Therefore, if they are not to be found in the IGI there is little chance of making further progress apart from searching further back in the registers of St. Michael's and hoping for the best. As they married in St. Michael's it is probably reasonable to assume that either Charles or Mary lived within the parish before their marriage. There was a church in Foleshill at the time.
I hope that this is of some interest to you but I am sorry that it may not be of much use in your search. You are back to a date where luck is often as important as anything else due to the lack of information contained in church records of this period.
Please feel free to contact me again if you think I can help with anything.
Best wishes,
Terry
Terry Bigley
Ancestral Locations
e-mail: terrybigley@lineone.net
website: www.ancestral-locations.co.uk
General LOMAS Information:
The British Penal System
"Transportation" emerged as a punishment in 1717 and was viewed as a humane alternative to the death penalty. Most convicts were initially transported to America but this practice ceased in 1776 with the beginning of the American revolution. After this, convicts were held in prisons that quickly became overcrowded. As a result, old ships (hulks) that were moored in coastal waters were used. Conditions on these hulks were very grim. In fact, the hulks had become overcrowded floating dungeons that were filthy, poorly ventilated and infested with vermin and disease. Even by the standards of the day this was seen as unacceptable. Regrettably, this intolerable situation was allowed to intensify over the next eight years until public outcry finally forced the government to take action.
Transportation to Australia began in 1787 when the first fleet set sail. Originally it was seen as a cost-effective but only a temporary solution to the overcrowding of prisons and hulks. Nonetheless, as time carried on transportation became popular peaking in the 1830`s and continuing until 1857. New prisons were added to the penal system (many of which are still in use today). Transportation was formally abolished in 1868.
The Nottingham Quarter Sessions Court records indicate a Henry LOMAS, (labourer) of St. Mary on July 4th of 1832 was "transported beyond the seas" for 7 years for fraud.
Lomas de Zamora- A city of eastern Argentina, an industrial suburb of Buenos Aires. Population: 572,769.
Lomas de Chapultepec- neighborhood, Federal dist., Mexico. An exclusive residential area of Miguel Hidalgo Delegación, Mexico city.
Los Lomas Blvd- In Albucerque, New Mexico there is a widely travelled boulevard that bears this name.
Lomax- uninc. town (1990 pop. 3,554), Howard co., W central Texas, 12 mi/19 km SW of Big Spring, near Beals Creek. Oil and natural gas; cattle; cotton; vegetables; and sesame.
There is a Lomax town, in Harris County, Texas.
Los Lomas town in Live Oak County, Texas.
There is a Lomas Lake in British Columbia