Lomas
A British Family
Obituaries & Burial Information
A Canadian Foleshill Lomas Family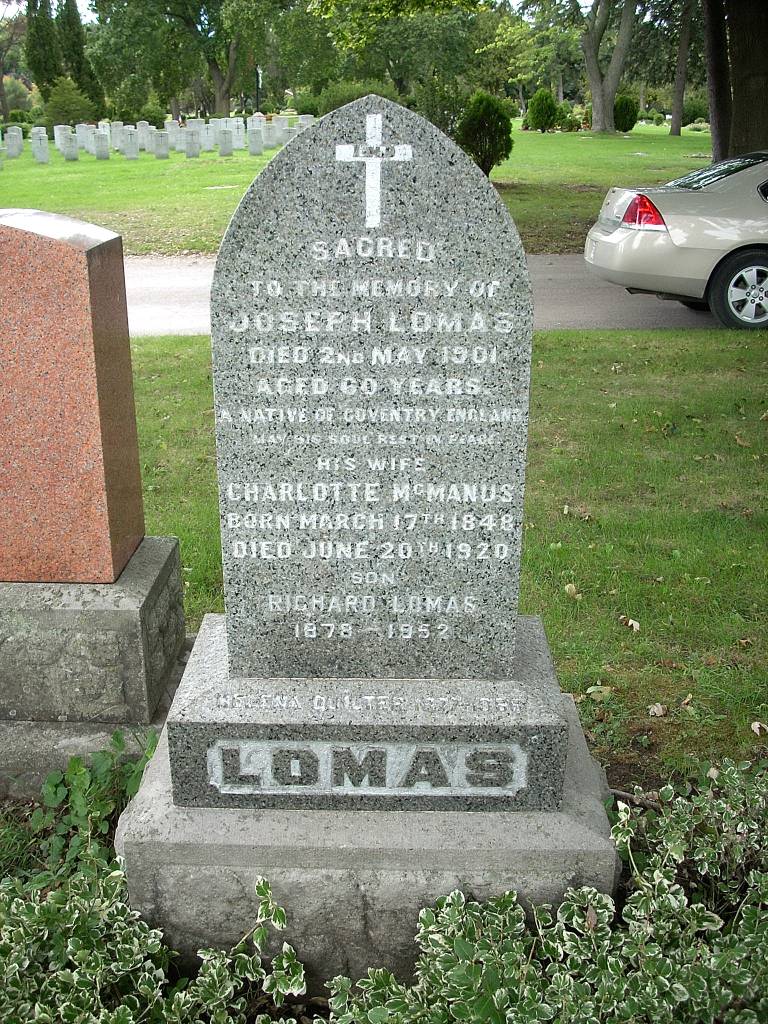 Obituaries for the individuals displayed on the above tombstone are not available as yet. Four of our departed family ancestors remains are located here at the Holy Sepulchre Roman Catholic Cemetery in Burlington, Ontario:
JOSEPH LOMAS, 1834 (or 38?) - 1901. The tombstone indicates he died at age 60. However, British Army records indicate he enlisted in 1860 at the age of 22 - which would establish his birthdate as 1838.
CHARLOTTE MCMANUS, 1848 - 1920
RICHARD LOMAS, 1878 - 1952
HELENA QUILTER, 1887 - 1966

---
MRS. JOSEPH LOMAS- Saturday, April 15th, 1944
A native of Hamilton and a lifelong resident, Mrs. Joseph Lomas, of 189 Grosvenor avenue south, died yesterday. Mrs. Sarah Alice Lomas (nee Wakeham) was a member of Grace Anglican Church and was a faithful attendant. Surviving, besides her husband, is a son, John J. and a daughter, Mrs. Henry Davis, both of Hamilton. The funeral will be held from the J. B. Marlatt Funeral Home Monday afternoon at 2 o'clock. Interment will be made at Woodland Cemetery, Hamilton.
---
JOSEPH LOMAS- Tuesday, September 26th, 1944
A native of Jamaica, West Indies, Joseph Alfred Lomas, husband of the late Sarah Alice Wakeham, died at his residence, 189 Grosvenor Avenue South. He had resided in Hamilton since childhood and was a valued employee of the Steel Co. of Canada Ltd., Canada Works, for over half a century. He had been retired the last ten years. In his younger days he was a member of St. Lawrence's Sport Club, playing as pitcher, and was an ardent baseball fan. Surviving are one son, John Joseph, and a daughter, Mrs. Harriet Elsie Davis, both of Hamilton, and one brother, Richard, of this city. The funeral will be held Thursday morning at 8:30 o'clock from the P. X. Dermody Funeral Home to St. John the Baptist Church for a Requiem Mass at 9 o'clock. Interment at Woodland Cemetery, Hamilton.
The funeral of Joseph Alfred Lomas took place this morning from 7 East avenue south to St. John the Baptist Church. Reverend Thomas McGovern, a cousin of the deceased, from Akron, Ohio, met the remains and celebrated Requiem Mass. Interment was made in Woodland Cemetery where Rev. Patrick Bodendistel and Father McGovern officiated at the graveside. The pallbearers were: John Semmens, Joseph Smart, William Highfield, John Anderson, Charles Childs, Frederick Croucher, all superannuated employees of the Steel Co. of Canada Ltd.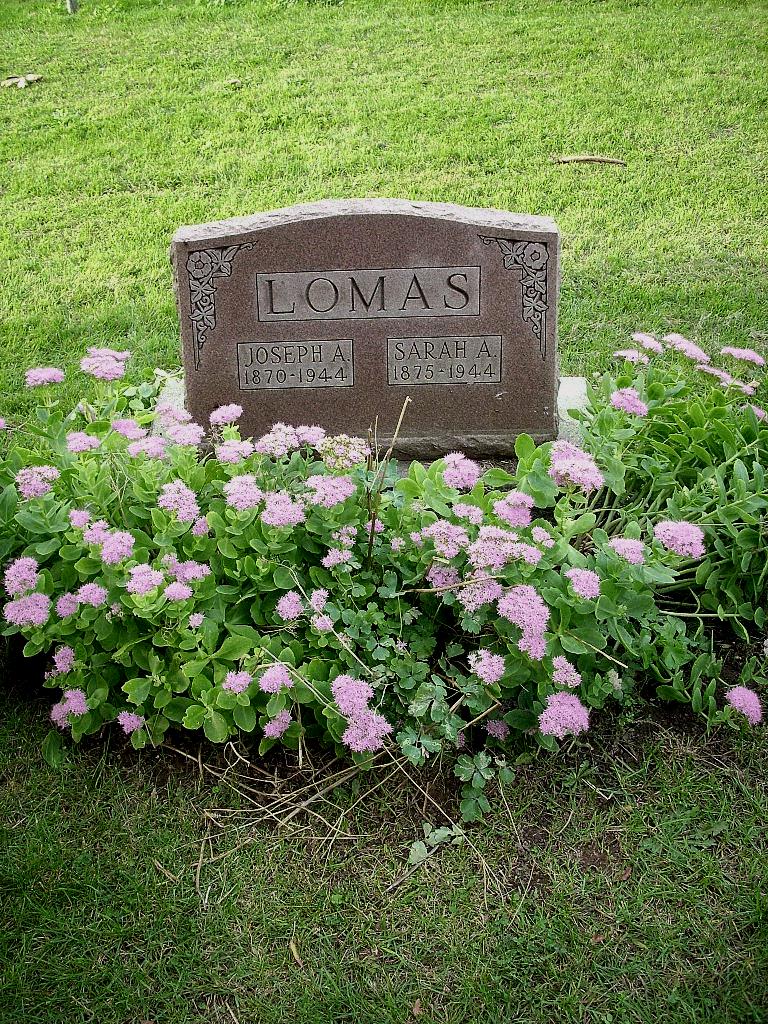 ---
DAVIS- Sunday, March 9, 1997
Elsie Harriett Alice Mary (nee Lomas), in her 90th year, at the Henderson General Hospital, slipped peacefully away. Predeceased by her husband Henry (Harry) E. Davis, dearly missed by her daughter, Pauline Davis of Hamilton and son Paul E. Davis and his wife Carolyn (nee Windsor) of Burlington, granddaughters, Kathy Davis of Burlington and Dawn and her husband Joe Rick of Illinois. Friends will be received at the M. A. Clark Funeral Home, 567 Upper Wellington Street, Mount Hamilton, on Tuesday from 2-4 and 7-9PM. Funeral service Wednesday March 12, 1997 at 11:30 AM at the Funeral Home Chapel. Interment Woodland cemetery, Hamilton. In lieu of flowers, donations to a charity of your choice would be appreciated by the family.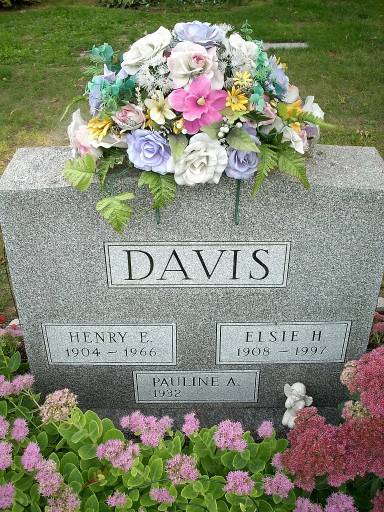 ---
LOMAS- Friday, August 11, 1972
John Joseph Lomas, (Jack) age 60 years, dearly beloved husband of Mrs. Valerie Lomas, 2955 Athol St., Regina, Sask. Predeceased by his parents, Mr. Lomas is survived by his wife, Valerie, one son, Joseph, Regina, one daughter, Mrs. Darlene (Richard) Seitz, Regina, three grandchildren, one sister, Mrs. Elsie Davis, Hamilton, Ont. Funeral service will be held on Monday August 14th, at 10 AM at St. Anthony's R.C. Church with Msgr. A.J. Gocki officiating. Interment in Riverside Memorial Park. Prayers will be held at Speers Funeral Chapel Sunday evening at 7:30 PM. Flowers gratefully declined. The family would appreciate donations to the Saskatchewan Heart Foundation, 708 Canada Bldg, Saskatoon, Sask.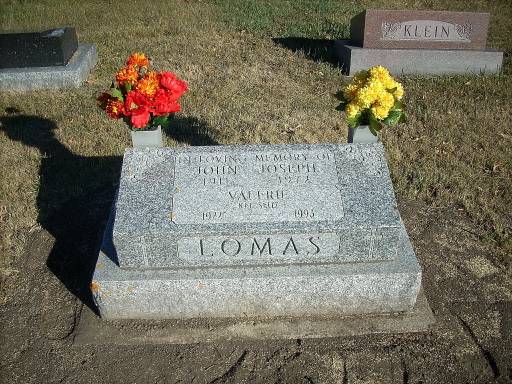 ---
SEITZ- Sunday, February 7, 1993
Valerie Helen, age 70 years, dearly beloved wife of George Seitz of Regina. Baptized as "Valeria Gocki" 3 days after her birth on the farm (at Cedoux, SK - S4-T12-R14-W2M), Valerie is predeceased by her first husband, John Lomas in 1972; granddaughter, Jacqueline Lee Seitz in 1973; parents Vincent and Caroline Goski, sisters: Vicki Goski and Pauline Puluikis. Valerie is survived by her loving husband George; son, Joseph (Donna) Lomas; daughter, Darlene (Richard) Seitz; grandchildren: Jan Seitz, Ryan Seitz, Tara (Marlon) Freistadt, Paul Lomas and Jenna Lomas, all of Regina. She leaves a brother, Leo (Jo) Goski, Regina; 8 sisters: Mary Goski, Pioneer Village, Sister Marta Goski, Daughters of Charity, Dallas Texas, Marge Ralston, B.C., Dorothy (Fred) Tansley, Regina, Joanne (Phil) Mishurski, Regina, Phyllis (Jack) Kurek, Calgary, Jeannine (Paul) Gervais, LeDuc, Betty (Morley) Seitz, Weyburn; and numerous neices and nephews. Valerie retired from the provincial government after 24 years, in 1984. She was an avid sports fan and hobbyist and gardener. "Val" was actively involved in the Christopher Organization. Her generous, happy personality brought her many friendships. Funeral mass will be held on Thursday, February 11th, 1993 at 7:30 PM at Holy Cross R.C. Church, 315 Douglas Ave. E, with celebrant Rev. Timothy Ziegler. Interment in Riverside Memorial Park on Friday February 12th, 1993 at 9:30 AM. Flowers most gratefully declined. Friends so wishing may make donations in memoriam to the Allan Blair Memorial Clinic, 4101 Dewdney Ave., Regina, SK, S4T 7T1. Arrangements in care of Speers Funeral Chapel.
---
SEITZ- Tuesday, March 26, 1974
Jacqueline Lee Seitz, aged 5 years, dearly beloved daughter of Mr. and Mrs. Richard Seitz, 161 Krivel Cresc., Regina. Predeceased by her grandfather, John Lomas, Jacqueline is survived by her parents, Richard and Darlene Seitz, one sister, Jan Michelle, one brother, Ryan Jason, her grandparents, Mrs. Valerie Lomas, Regina and Mr. and Mrs. George Seitz, Regina. Funeral services will be held on Friday, March 30th, 1974, at 11:00 AM at Little Flower RC Church with Rev. J. C. Deutscher officiating. Interment in Riverside Memorial Park. Flowers most gratefully declined. The family would appreciate donations to the Sask. Assn. for Retarded Children, 215 Canada Bldg., Saskatoon. Arrangements in care of Speers Funeral Chapel.
---
SEITZ- December 25, 2021
Richard George Seitz, aged 74 years. With heavy hearts, the Seitz family announces Richard's passing on December 25 at his home in West Kelowna with his wife and love of his life, Darlene and son Ryan (Mark) by his side. Rich is also survived by his daughter Jan. He was predeceased by his parents George and Catherine and daughter Jacqueline Lee.
Rich was born in Regina, an only child on Mother's Day. He got involved in sports early and he excelled in any sport he tried. He led the Regina Rams to win the Junior Grey Cup the same year the Roughriders won their Grey Cup and with the same score. He played hockey with the Regina Pats, the Impalas softball team and more. He held hockey schools at no cost to families, coached girls ringette for numerous years and also the University of Regina Cougars hockey team.
Because of his daughter Jackie's illness, Rich had to forego Saskatchewan Roughriders camp, an opportunity to coach hockey in Italy, and also had to say no to being drafted by a team in the World Hockey Association.
Rich and dar involved themselves with the Muscular Dystrophy community where he was on the board to represent the firefighters while his wife was aide to MD kids Fund raising their friendship.
Retiring as a senior captain from a job he loved at the Regina Fire Department was tough but made easier when he found a home at Shuswap Lake Estates Golf Community in Blind Bay, BC. There, he and Dar got to kayak, and they had a great trip paddling the Broken Islands. Along came golf on a championship course all around them, and ball and hockey time too.
Alberta called and for two years, Rick and Dar lived in Medicine Hat where, again, Rick found hockey being played, and the best ball league he ever played with which took him to tournaments in Utah twice.
BC was calling back and they had to respond. Living on the Two Eagles Golf Course was wonderful and hockey was a fun experience with great teammates.
Thanks go to his huge health team of Drs. Bains, Moore, Lefevre, Dielwart, Weisenthal, Ramsay, Mostowy, Elamin and McLeod. Thanks dear Nurse Ann Keane who brought her sunshine to our home as well as Julie, Kim, Lisa, Marie and their team.
Remember Rick by his constant helpfulness, by his kind and calm way, and by his smile. A man of talent with no ego is a rare find. He will live forever in the hearts of those who loved him. A celebration of his life will be held in the Spring. In lieu of flowers, please consider a donation to the Canadian MPS Society for Mucopolysaccharidosis & Related Diseases www.mpssociety.ca.
---
LOMAS- Thursday, February 4, 2010
Mrs. Edith Lillian Lomas (nee Ironside) passed away peacefully at Joseph Brant Memorial Hospital, Burlington, on Thursday, February 4, 2010, in her 87th year. Predeceased by her husband John Joseph Lomas, 1975. Lillian is survived by her loving children Martha (Bill) Hemphill, Elizabeth Lomas, Michael (Sandra) Lomas. She will be sadly missed by many nieces and nephews, especially her niece Gail Hongladarom of Seattle. Lillian also was predeceased by her siblings Keith, Frank and Ruby Chapman.
Born in Stoney Creek on September 15, 1923 to her parents Arabella Gore Hunter and Ernest Homer Ironside, Lillian was a proud member of the United Empire Loyalists' Association of Canada, Hamilton Branch securing her certificates of Loyalist Lineage for Titus Simons and Michael Showers. She served as secretary from 1982 to 1988 and corresponding secretary after her period as past president. During her terms as Branch President (1990-1995), the Hamilton Branch and the Col. John Butler (Niagara) Branch co-hosted the 1993 Conference in Hamilton. At the time of the restoration of the Cockpit at Dundurn Castle in 1996, her leadership resulted in the installation of a natural garden around the Cockpit. For her many contributions on behalf of Hamilton Branch UELAC, Lillian received a Hamilton Wentworth Heritage Award in 1998.
The Burlington Historical Society also benefitted greatly from her membership as did the Parish of St. Luke's where the Loyalist Flag will fly on Monday. Lillian was particularly pleased to receive the Order of Niagara (for the Laity of the Diocese of Niagara) from "her" Bishop Ralph Spence.
She also enjoyed her writing groups at the Seniors Centre, visiting at Maple Villa and the many friendships that she built over her years of active involvement in the community. Her family and friends send a special thank you to the staff of the Joseph Brant Memorial Hospital for the care they gave.
While visitation will be held at SMITH'S FUNERAL HOME, (www.smithsfh.com) 485 Brant Street, BURLINGTON on Sunday from 3-5 and 7-9 p.m., the Funeral Service will be held at St. Luke's Anglican Church, 1371 Elgin Street, Burlington on Monday, February 8, 2010 at 11 a.m. A private interment will take place.
If desired, as an expression of sympathy, donations made to the St. Luke's Building Fund or the Heart and Stroke Foundation would be greatly appreciated by the family.
...Gloria Oakes UE, Hamilton Branch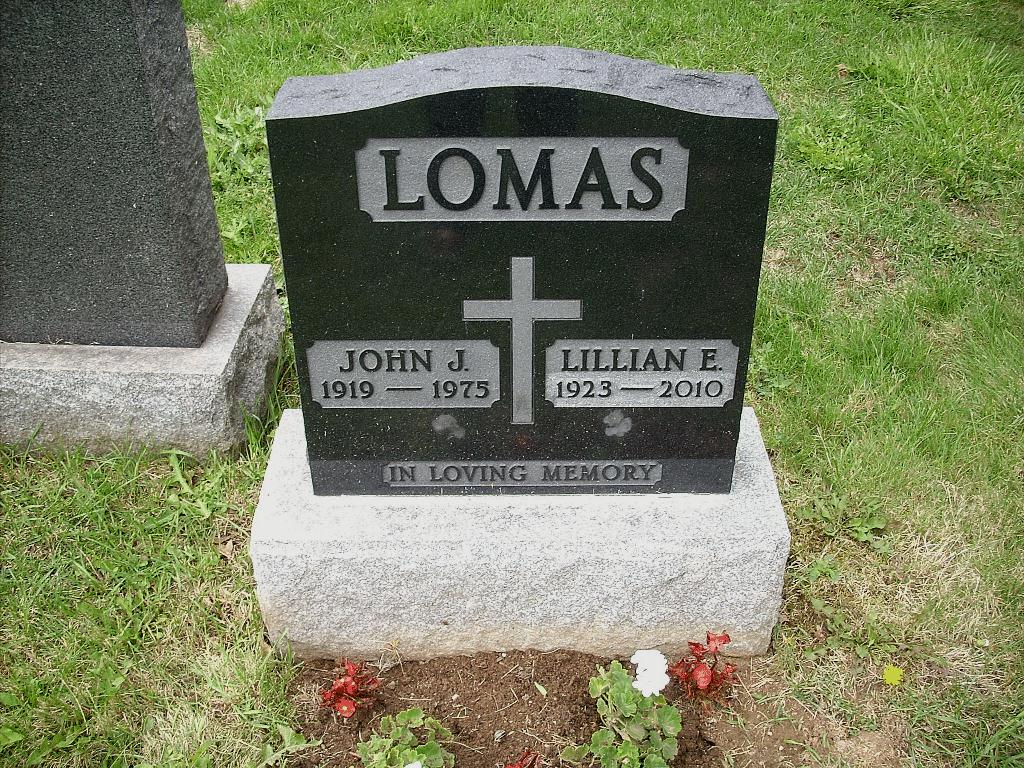 ---
CURRAN- Sunday, March 29, 2009
It is with great sadness that we announce the passing of our cherished mother, Mrs. Margaret Mary Curran (nee Lomas), on Sunday March 29, 2009, in her 93rd year. Beloved wife of the late Thomas Sinclair Curran (2003). Loving mother of Richard and his wife Arlene and Thomas and his wife Mary. Predeceased by her daughter Maureen Wilkins, her sister Madeline Vickers and her brother John Lomas. Also survived by her grandchildren, great grandchildren and many nieces and nephews. Margaret was a member of the C.W.L., St. Francis Xavier Church and spent many years volunteering at the Good Shepherd Centre. Many thanks to the Vickers, Lomas and Curran families for their loving care. Special thanks to Dr. W. Kennedy and staff and the doctors and nurses at St. Joseph's Hospital for their kindness. Friends will be received at the Donald V. Brown Funeral Home, 36 Lake Ave Drive, Stoney Creek, on Tuesday evening from 7-9 PM. Vigil for Margaret at 8:30 PM. Funeral mass will be held at St. Francis Xavier Roman Catholic Church, Stoney Creek on Wednesday, April 1, 2009 at 11:00 AM. Interment at Holy Sepulchre Cemetery. (Thomas, Margaret and Maureen are buried in the same grave.)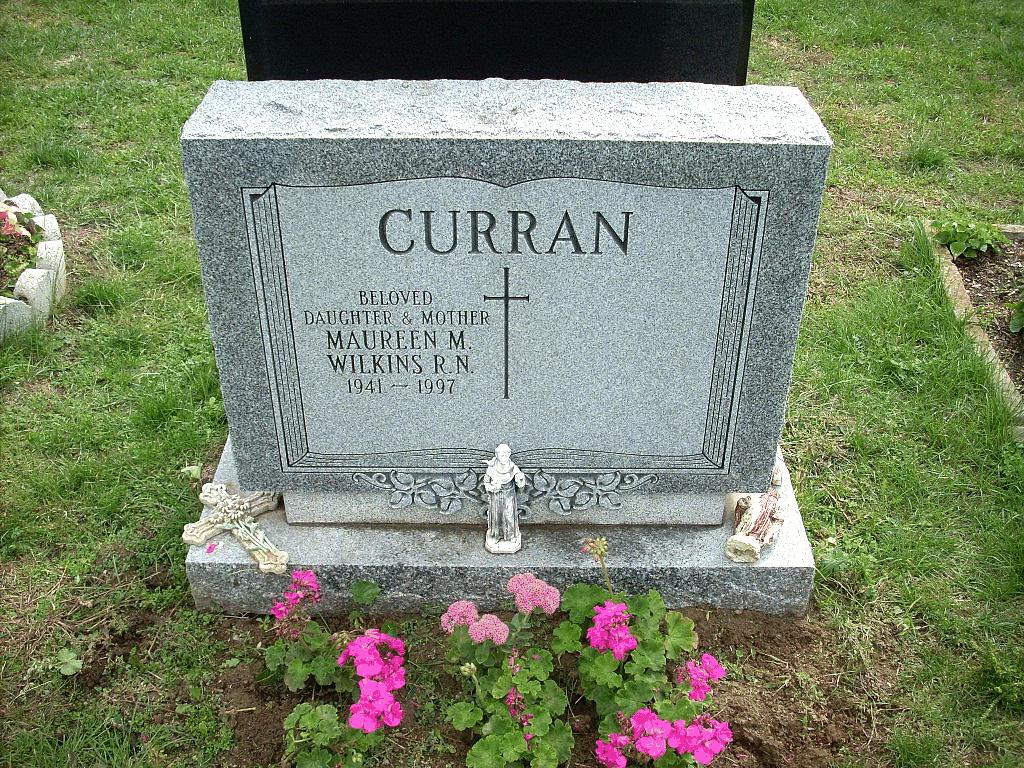 ---
VICKERS- Sunday, January 6, 2008
It is with great sadness that we announce the passing of our cherished mother, Mrs. Ellen Madeline Vickers (nee Lomas), on Sunday January 6th, 2008, in her 90th year. Beloved wife of the late John L. (Jack) Vickers (1981). Loving mother of John R. and Maureen Vickers, Anne and Serafino Camera, Margaret and Gary Giavedoni, Mark and Annette Vickers and Mary Ellen Allen. Predeceased by her first-born son John (1942). Beloved grandmother of Jennifer and Rob Fazakerly, John H. and Jennifer Vickers, Angela, Christopher and Steven and her special granddaughter Katharine Allen. Beloved great-grandmother of Jack and Haley, Dylan and Ella. Dear sister of Margaret Curran and the late John Lomas. Dear sister-in-law and lifelong friend of Lillian Lomas and the late Tom Curran, and sister-in-law of Lila and the late Grant Vickers. Loving aunt of many nieces and nephews. Madeline participated actively in the C.W.L. as a lifelong member and two-term President of the St. Francis Xavier Chapter. Special thanks to the Doctors and Nurses at the General Hospital for their compassionate care of our dear mother. Friends and family will be received at the Donald V. Brown Funeral Home, 36 Lake Ave Drive, Stoney Creek, on Wednesday from 2-4 and 7-9 PM. Vigil prayers at the funeral home on Wednesday at 7 PM. The funeral mass will be held at St. Francis Xavier Catholic Church on Thursday January 10th at 10 AM followed by a reception to be held at the St. Francis Parish Centre. Interment will then take place at Holy Sepulchre Cemetery. Madeline will always be remembered as a loving wife, mother, grandmother, great-grandmother and friend.